Demo Coaching & Audition Prep 
Are you ready to take your career to the next level? 
Is it time to really get serious about this whole voiceover thing? 
Private Voiceover Coaching may be right for you!
Private Sessions are perfect for:
Honing your skills and perfecting your read
Audition prep and cold readings.
Developing your signature voice & finding your niche market
Creating and sustaining characters for animation
Planning and preparing demo materials (super important!!)
Getting help and direction on the business end of the biz.
Specialty voiceovers i.e audiobooks, narration, broadcasting, IVR
Dialect Coaching or Reduction
Tweaking your home studio set-up
We'll cover whatever you need most to get going! The majority of voiceover coaching now is done via the telephone or video conference. (I know, I know…. actors want to work together in person, but this is VOICE work. Get use to not seeing the people you're working with!) I don't so much need to see you as to hear you! Scripts are exchanged via email and we arrange a time for the session just as we would as if it was in person.   Individual Private Sessions include MP3 Recording       
MP3 is available for download within 30 minutes of completing a session
Recording allows you to replay every single comment and direction given, and to be able to work more effectively on your own at home
This is a huge benefit of working over the phone as that type of recording is actually much more difficult and costly to do live
Investment:
$45 for 30 min session
$80 for 60 min session
$120 for 3 x 30 min sessions
$220 for 3  60 min sessions
** Please note: if this is for AUDITION PREP and you need some coaching ASAP send a text to 310-933-3993  withAUDITION PREP in the message someone  will get right back to you! * Please note: texting is for urgent coaching only. Non-urgent messages pleases email.
As soon as payment is made, you will be redirected to a page with further instructions of how to prepare & what comes next!
---
Looking for some intense coaching? Maybe some career strategy?  Or you're ready to jump into voiceovers and now it's time to set up your home studio…. and you could use a little help. I gotcha!
Join me for a Private VIP Day Intensive in Los Angeles or Virtually
We'll start by reviewing your materials, get clear on your branding and record some test spots so we know exactly what your sweet spot is.
Together we will roll-up our sleeves to hone your materials, work those skills and put some next level career planning in place. You get to bring your unique artistry out to play and we concentrate only on what resonates with you most so that you can focus on what matters.
This can be a Full Day or Half Day and sessions are priced accordingly.
* Please contact me for more details.
---
"Hunter is a terrific coach and voice director, with both a great ear and a good knowledge of the business. I recommend her wholeheartedly." – Daryl Hutchings via LinkedIn
"Words can't describe the excellent voice over coaching that I have received from Hunter. During every consultation, I've learned through her realistic approach how to unblock the mental barriers of discovering my true authentic voice. When I met Hunter, I had lots of doubts and fears of becoming a professional Voice Over talent. Now I am booking and receiving amazing responses from clients. Thank you Hunter!" – Janet McLeish on Voices.com 
---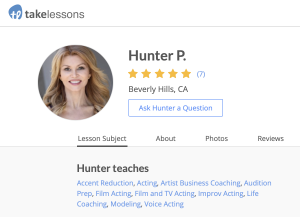 Prefer to take lesson online? You can also connect with me on TakeLessons.com
---